Our team enjoy nothing more than getting to see all the families who come to The Movement Centre for Targeted Training. It is also important to us that our children and their families feel supported during their course of therapy.
Throughout the 9 – 12 months we are always available to offer support and advice, from discussing your Targeted Training programme to any fundraising ideas.
Our families and supporters can also join us on Facebook and Twitter to hear all the latest news from The Movement Centre. Families can also share pictures of their fundraising activities and Targeted Training taking place at home.
Celebrating achievements
One of the highlights of our year is our annual children's Awards Party. At the event we celebrate all the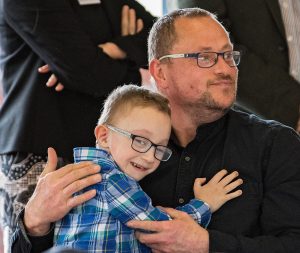 hard work our families and children put in to their course of Targeted Training. It is at this special occasion that we present certificates to all those who have completed their course of Targeted Training. Every achievement is a big cause for celebration and it is great to see so many happy and proud faces.
From learning head control to taking their first steps, it is fantastic to see the new abilities each child has developed over a course of therapy. It is also a great opportunity for the whole family to let their hair down and have some fun, with lots of entertainment and treats too!
Like so much of our work, we would not be able to have such a fantastic celebration without the support of  businesses and individuals who make the day so special for all of the guests, but especially for the children who practise so hard every day to progress as much as they can.
As a registered charity we would not be able to continue without all the fantastic support we receive every year. By working together with our supporters and families we can all help the children who attend The Movement Centre have the best possible chance gain movement control, resulting in increased functional skills and greater independence.