A number of outcome measures are used throughout each course of Targeted Training therapy.
An outcome measure is the result of a test that is used to determine the baseline function of a patient at the beginning of treatment. Once treatment has commenced, the same instrument can be used to determine progress and treatment efficacy. At The Movement Centre we use a range of outcome measures each chosen to provide valuable information about the individual child.
 Pediatric Evaluation of Disability Inventory (PEDI) Questionnaire
This is a paediatric measure to assess function rather than development.
It allows us to:
Document functional delay
Document changes in functional abilities over time in response to therapeutic intervention.
An example question would be 'Can your child sit unsupported on a chair or bench?'
Chailey Levels of Ability – Observational Scale
The Chailey Levels of Ability is a scale which measures motor ability in children and young adults with motor impairment and requires no specialised equipment or environment. It is an observational scale that details physical ability at low levels and can record discrete changes in ability. It examines the five postures of:
Lying supine
Lying prone
Sitting on floor
Sitting on bench
Standing
The Gross Motor Function Measure 66 item set (GMFM-66-IS) – Observational Scale
This is an assessment tool designed and evaluated to measure change in gross motor function over time or with intervention in children with cerebral palsy. It was first developed in the late 1980's by CanChild for use in both clinical and research settings and has evolved through advanced analytic techniques and in response to requests for more efficient testing.
Administration of the GMFM-66-IS begins with a predefined set of decision items. The child's score on each of these items guides therapists towards the item set most appropriate for that child. The item sets vary in length, with 15 items in Item Set 1, 29 in Item Set 2, 39 in Item Set 3 and 22 in Item Set 4.
The functional activities scored range from 'Lying supine and bringing hands to midline' to 'Standing on step, jumps off, both feet simultaneously.'
There is a four-point scoring system for each item:
0 = does not initiate (the task being tested)
1 = initiates (<10%)
2 = partially completes (10% to <100%)
3 = completes the task.
Targeted Training is a therapy that is provided for children with Cerebral Palsy (CP) and with other conditions that affect control of their movement.  As the CanChild reference data is designed for children with CP we have separated our data into TMC children with CP and other TMC children.
Edinburgh Visual Gait Score (EVGS)
We see a small number of children at The Movement Centre who are independently mobile, but who have difficulties with their walking. The EVGS gives us a method of analysing their gait pattern to give us insight into their key areas of difficulty, and provide us with information to guide our therapy. It also provides us with an outcome measure which is scored and which we can use to evaluate our intervention. (This measure is  used with independently mobile children).  
The Segmental Assessment of Trunk Control (SATCo) – validated measure
The Segmental Assessment of Lower Limb Control (SALLCo) – non validated measure
 Tools that are central to our assessments are the Segmental Assessment of Trunk Control (SATCo), and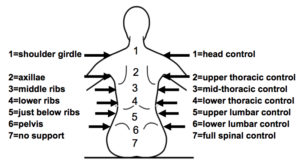 The Segmental Assessment of Lower Limb Control (SALLCo) which were pioneered and developed at The Movement Centre. The SATCo is now an internationally recognised validated measure, which tests the child's trunk control. SATCo is different from other assessment tools as it does not treat the trunk as one unit, but instead provides regional differentiation of trunk control (see diagram ), allowing clinicians greater specificity in assessing trunk control.
It draws on the principles that the ability to control sitting balance gradually emerges in children with typical development during the period from about two to nine months of age, with head control developing first, followed by progressive development of trunk control. In children with neuromotor disability development of sitting balance is delayed and, depending on the level of disability, children may continue to show constraints on sitting balance throughout their lives with some never gaining independent control of the trunk and head.
SATCo can be used for children with a broad range of abilities including those with more severe motor and cognitive deficits. By discriminating the specific level and aspect of trunk control, this assessment provides therapists with valuable information for creating an effective rehabilitation programme. These tools provide a systematic method of assessing discrete control in children with motor disabilities. It provides information on the level of Static, Active and Reactive control which a child demonstrates.
This information gives us the basis for designing a specific Targeted Training programme to promote the further gaining of control.